Romance Writers of America's national conference, June 2011

Jayne Hoogenberk of Harlequin's digital team.
Gail with Karen Anders, who is signing her fabulous book.
Gail with the incredible Cindy Gerard, NY Times bestselling author, at the Literacy For Life booksigning.
Agent Pam Hopkins, Gail, and editor Susan Litman at the National Readers' Choice Awards.

Daphne finalists Heather Leonard, Gail Barrett, and Jacki Delecki.

Gail with NY Times bestselling author, Deanna Raybourn at the Rita finalist reception.

Gail with Sally MacKenzie, USA Today bestselling author.

Harlequin Romantic Suspense authors en route to the Harlequin party at the Waldorf-Astoria hotel.
Kathleen Creighton, Nina Bruhns, Gail Barrett, Karen Anders, Cindy Dees, Carla Cassidy, Kylie Brandt, Virna DePaul.

Ann Voss Peterson, Gail Barrett, and Carol Peterson all glammed up at the Harlequin party.

Gail and editor Susan Litman, at the Rita Award ceremony.
Washington Romance Writers retreat, Spring 2011

Gail with Melissa James.
Gail with Harlequin editor Keyren Gerlach.

Washington Romance Writers retreat, April 2010

Washington Romance Writers retreat panel.

Booksigning at Turn the Page bookstore.
Sitting: Lavinia Kent, Gail Barrett, editor Ginger Buchanan,
Charlaine Harris.  Standing: Roxanne St. Claire.

Research Trip to the Pyrenees, October 2009

The French side of the Pyrenees.
Doing research in the Pyrenees.

RWA national convention, July 2009

Gail with editor Susan Litman receiving the
National Readers Choice Award.
RWA Literacy book signing 2009.
My Recent Trip to London

Stonehenge.
West Kennet Long Barrow, a 5,600 yr. old tomb.
Greenwich. Standing on the Prime Meridian, one foot in each
hemisphere.
A chamber inside West Kennet Long Barrow.
Avebury, a stone circle larger than Stonehenge.
Another view of Avebury.
Turn the Page Bookstore book signing - December 2008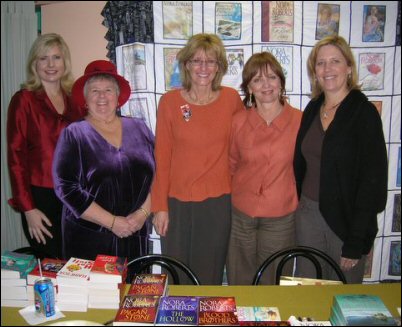 (Left to right): Kathryn Caskie, Dolly Nasby, Gail Barrett, Nora Roberts, Elaine Fox
Photos from Romance Writers of America's national conference in San Francisco

Chinatown
A Cable Car
Breakfast at the famed Sears Diner with other Silhouette Romantic Suspense authors:(left to right) RaeAnne Thayne, Beth Cornelison, Susan Vaughan, Gail Barrett, Nina Bruhns, Kim Van Meter.
Recent Booksignings

WRW Spring Retreat.  Gail Barrett, Heidi Betts, Karen Anders.
Gail Barrett, Karen Anders, Heidi Betts, Carolyn Greene. 
Turn the Page booksigning, Boonesboro, MD.  Gail Barrett, Mary Burton.
Barnes & Noble booksigning, Frederick, MD.  Susan Donovan, M.K.Trent, Gail Barrett, Maggie Toussaint.
Photos from my research trip to Peru

In October, I accompanied the medical missionaries into the mountains of Peru around Ayaviri (elevation 13,000 ft.). Every day we went into a different village to give what medical aid we could to the poor. Most of the people were Quechua, descended from the Inka. Here are some photos from the trip.
A woman in Ayaviri.
The market in Ayaviri. They grow an amazing variety of potatoes and beans.
A woman selling her wares at the market.
Most of the buildings in the villages had thatched roofs.
A village street.
A town we passed through.
The children were darling but their rosy cheeks are due to sun damage.
Villagers lining up to see the doctors.
At the end of the week, my husband and I made a brief detour to see Machu Picchu. Unfortunately, I was so sick by then that I had to abandon the tour. But I was (briefly) there!
Interestingly, the women put hair extensions made of black yarn on the ends of their braids.
Patients waiting their turn.
Patients waiting their turn.
Here I am in Cuzco just before we left Peru. I was way too thin from being sick, but at least I had recovered enough to shop!
Our wonderful Quechua-speaking helpers. They translated into Spanish, and I translated into English for the doctors. We couldn't have helped many people without them. Yuspagarachu!