HIS 7-DAY FIANCEE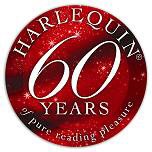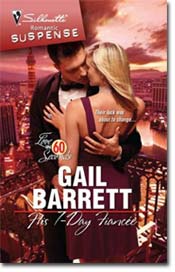 Love in 60 Seconds ("The suspense is hot, the romance is hotter!") is an exciting six-book series celebrating Harlequin's 60th anniversary year.  Set in glitzy Las Vegas, the series kicks off with the shocking murder of a famous socialite, part of the wealthy, powerful Rothchild family.  The family's prized possession, a legendary diamond ring worth millions, also goes missing.  Amidst glamorous evenings, where the world's richest come together, someone wants to bring down the Rothchild family by eliminating them one by one.  And everyone is scrambling to find the ring...
Reviews and Awards
His 7-Day Fiancée was a finalist for the Golden Quill, the Beacon, the Heart of Excellence Readers' Choice Award, and was the winner of the Holt Medallion.
The LOVE IN 60 SECONDS series from Silhouette Romantic Suspense:

Book 1 - The Heiress's 2-Week Affair, Marie Ferrarella, April
Book 2 - His 7-Day Fiancée, Gail Barrett, May
Book 3 - The 9-Month Bodyguard, Cindy Dees, June
Book 4 - Prince Charming for 1 Night, Nina Bruhns, July
Book 5 - Her 24-Hour Protector, Loreth Anne White, August
Book 6 - 5 Minutes to Marriage, Carla Cassidy, September


For more information on the series, click on the logo.