COWBOY UNDER SIEGE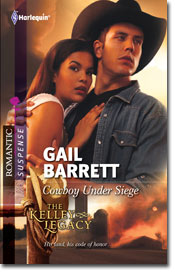 Overview of the series:
Secrets and scandal ignite in a danger-filled, passion-fuelled new miniseries, The Kelley Legacy.  A spinoff series of the hugely popular Romantic Suspense miniseries, The Coltons of Montana, The Kelley Legacy is a suspenseful new Western political-thriller series following the lives of the Kelley family: their secrets, their lies, and the exposure of it all!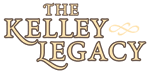 1. July 2011 Private Justice by Marie Ferrarella
2. August 2011 Special Ops Bodyguard by Beth Cornelison
3. September 2011 Cowboy Under Siege by Gail Barrett
4. October 2011 Rancher Under Cover by Carla Cassidy
5. November 2011 Missing Mother-to-Be by Elle Kennedy
6. December 2011 Captain's Call of Duty by Cindy Dees
Reviews and Awards
COWBOY UNDER SEIGE is a Romantic Times Reviewers' Choice nominee; Winner, Write Touch Readers Award; Finalist, Gayle Wilson Award of Excellence; Finalist, Judge A Book by Its Cover contest; Golden Quill finalist; Winner, Winter Rose contest; Finalist, Heart of Excellence Readers' Choice Award; Winner, Lories Best Published; Finalist, Aspen Gold Winner, Lories Best Published; Finalist, Aspen Gold; Finalist, Published Beacon; Winner, Laurel Wreath

"The Kelley Family saga continues as Cole Kelley's ranch comes under siege by his father's political enemies. Hoping to drive Senator Kelley out of his protective hideout, members of a clandestine terrorist group kill cattle, set fire to the ranch and threaten Bethany Moore, Cole's former girlfriend, who has returned to the ranch to care for her injured father. The social and romantic tension between Cole and Bethany is believable and compelling. Bethany is a particularly strong, likable character. Several secondary characters are portrayed vividly, adding drama to the story."
-- 4 Stars. Romantic Times Book Reviews.

"A compelling story of second chances."
-- Cataromance.